Meet the Team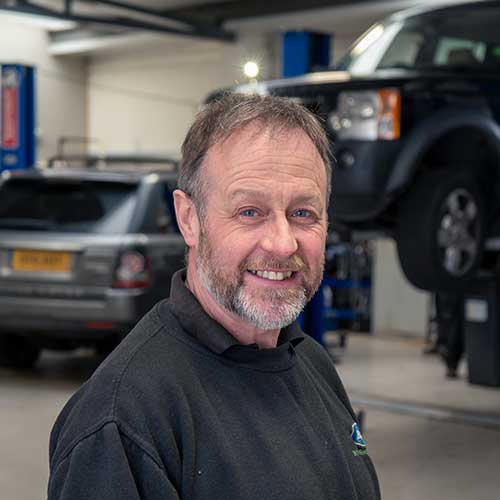 Tony Clark
I have been working in the motor industry for over 30 years, for Porsche, Audi & Land Rover dealerships, before starting Bournemouth LR Ltd. I am a level 4 master technician and specialise in electrical faults, the more wires the better as far as I am concerned! In my spare time I enjoy walking the dogs and helping our son with his various and many car projects.
Lorna Clark
Coming from a background in marketing and sales, I never thought I'd ever be running a garage! I had always enjoyed off roading in our beloved Defender (Huff) and been an active member of the local off road scene. I love what I do, and every day is different and brings new challenges. In my spare time I love to walk and explore our local area.
Kris
I'm actually the longest serving member of the team other than Tony. With years of experience gained from a main dealer background I have all the valuable skills required to work on the ever-evolving Jaguar/Land Rover range of cars. Outside of work, I'm generally found in out in the fresh air in Poole harbour on my jet ski which is something I massively enjoy.
Steph
I am currently the newest member of the team only having joined at the start of the year. I have always worked within customer services or administrative roles and am enjoying the challenges this new role brings. In my spare time I like to go out and get lost in the forest or act like a child playing crazy golf or bowling.
Michelle
I joined BLR just over a year ago and really love it. It's a fun and professional place to work, everyone has such passion and knowledge for all things Land Rover! In my spare time I love running, walking my dogs and stopping my children fighting! (or looking after my three boys) …. Oh, and drinking coffee to try and stay awake
James
I'm in my second year of my Mechanics apprenticeship, I love the fact that I learn something new every day and how much my knowledge is growing. I've an absolute passion for anything Land Rover, currently being the proud owner of Bertie, a Series 2A which I am restoring and also a Discovery 2.
Nahla
WILL YOU JUST THROW THE BALL!!!!
My favourite thing is going out with my humans and chasing as many pheasants as possible.
Rufus
I like to spend my time lounging around in the sun, eating and barking at absolutely nothing for no apparent reason whatsoever.